Wednesday 28th June
UPDATE!
COOLER WEATHER THIS WEEK SLOWING RIPENING
EXPECT TO OPEN AGAIN FRIDAY THIS WEEK
WATCH THIS PAGE
(READ FULL PAGE)
This weekend will be the remainder of the first bloom berries. We do not expect the abundance that we had last week but still expect alot of the first big "Primer" berries to be ready for picking. We are still watching the second bloom which will come in in the next week or two.
(Will be opening and closing the field based on available ripe berries)
IMPORTANT NOTICE
We have moved our office tent from our house down to the field. You can't miss it! Stop and get your picking buckets. Don't forget to bring a container to put your berries in to take home.
We should know by now that we can't predict how the weather and birds will affect our berries.
We are surprised to find so many mature sweet and large berries that continue to ripen after a devastating late freeze that destroyed all of the early blooms.
This undoubtedly is turning out to be the best crop we have experienced in a number of years as confirmed by pickers on our first days open.
This encourages us that our recent heavy pruning and fertilization program seems to be working. With both a shorten Season and an abundance of ripening at the same time creates a challenge to get them picked.
Your help in getting your friends and neighbors out is greatly appreciated.
We opened the field one day last Saturday.
Fortunately, we still have a large number of berries that will ripen in the next few weeks.
Rains are helping so far and birds are not a problem so keep checking for future open dates.
Visit this page regularly for latest updates.
We will be posting our operating days which will change as we monitor the ripening and picking.
We will not continue attempting to answer phone calls or emails as in the past so this page will be updated on a daily bases during our picking season.
We will update the night before we open or close the field.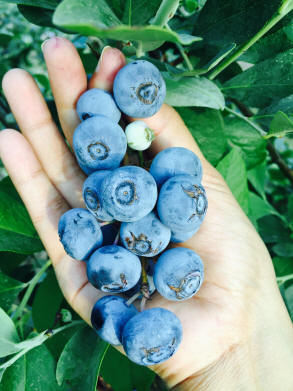 PHOTOS TAKEN JUNE 22 nd 2015
(hand full at a time!)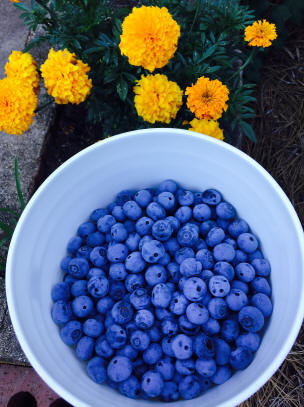 PHOTOS TAKEN JUNE 22 nd 2015
(large - sweet and juicy !)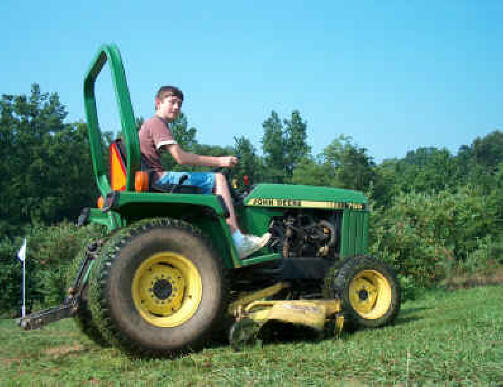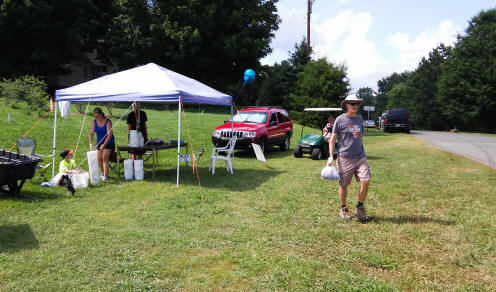 OPENING DAY CUSTOMERS FIND PLENTY OF BERRIES
June 17, 2017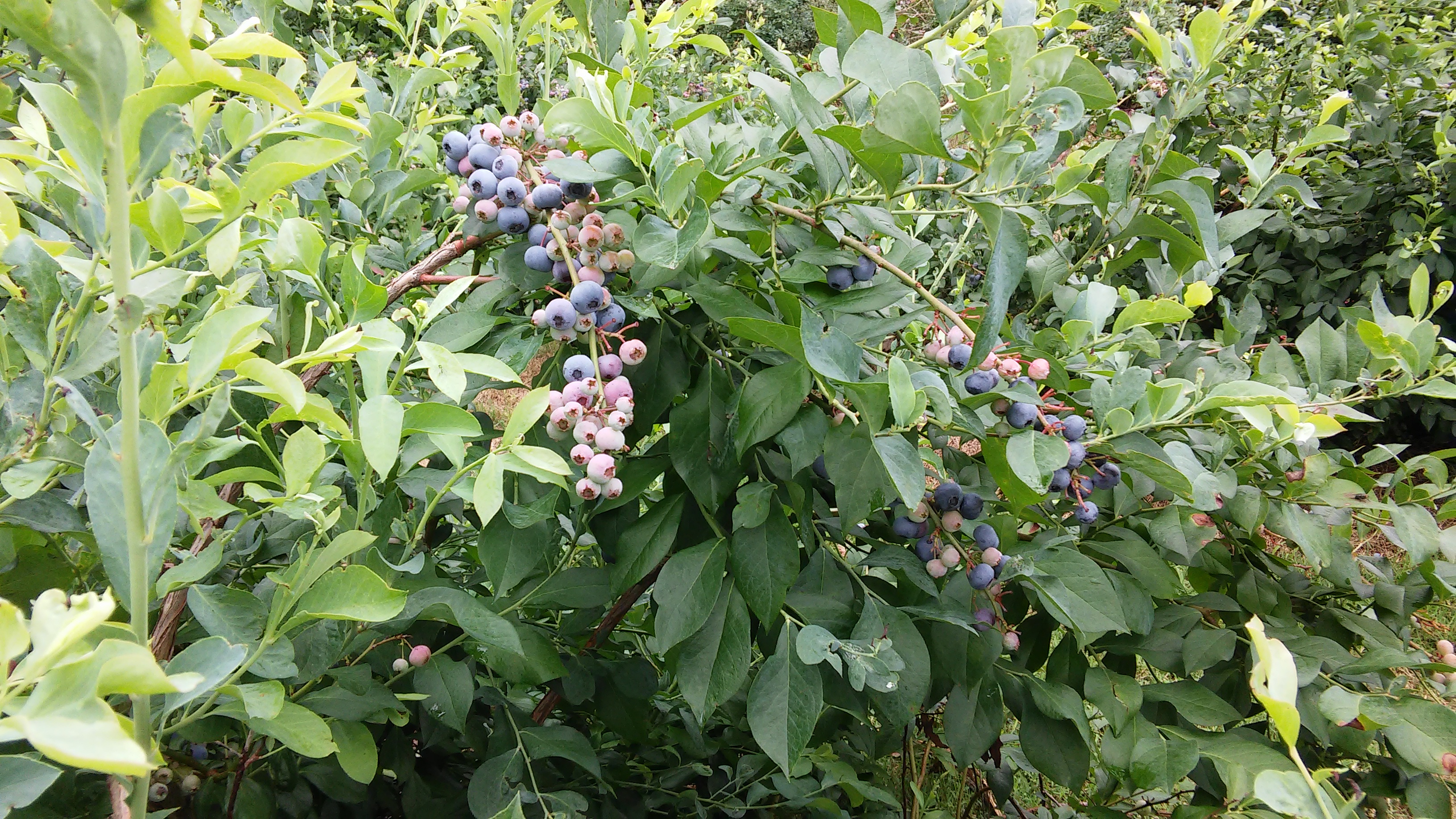 CLUSTERS ARE RIPENING
June 17, 2017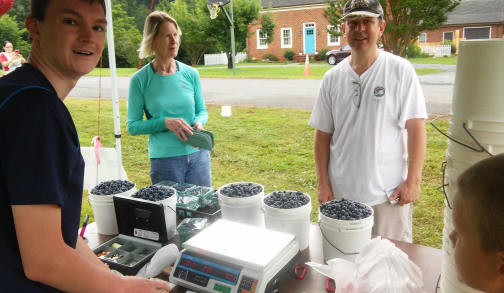 GREAT GRANDSONS AUSTIN AND TYLER WEIGH BERRIES
June 23, 2017


Pan view of pruned bushes - photo taken 6/1/2017
Physical pruning along with late freeze reduced number of berries on some bushes
but there is an advantage!


Pan view of pruned bushes - photo taken 6/1/2017
Plenty of rain is vital to the nourishment of our bushes and -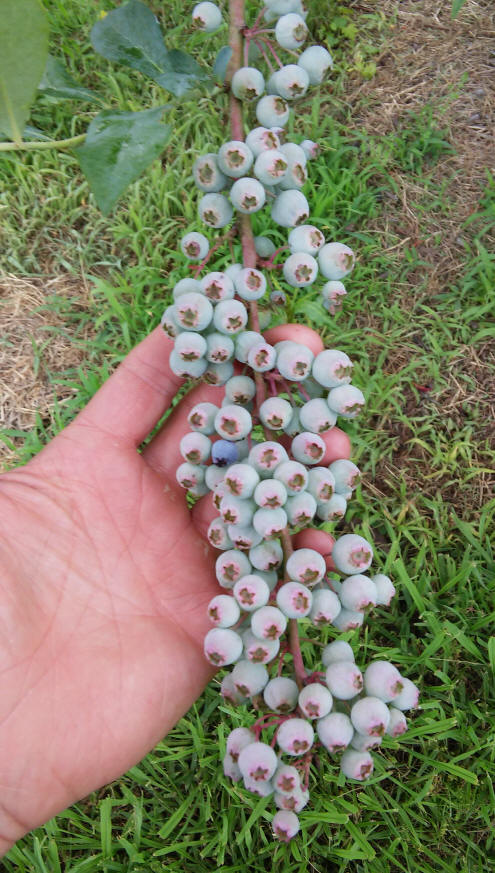 Pan view of pruned bushes - photo taken 6/1/2017
fewer berries mean larger berries. With 3 weeks to go this may be the largest berries we have seen.
PHOTOS TAKEN JUNE 22 nd 2015
(early morning 7:00 Pickers begin arriving)


PHOTOS TAKEN JUNE 22 nd 2015
(early morning 7:00 Pickers begin arriving)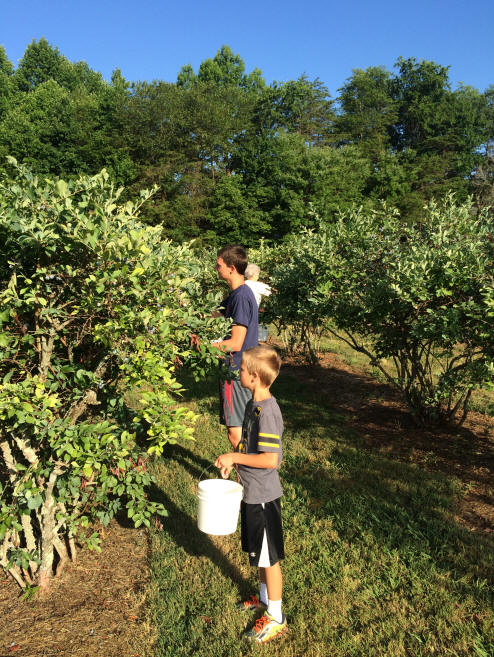 PHOTOS TAKEN JUNE 22 nd 2015
(picking begins)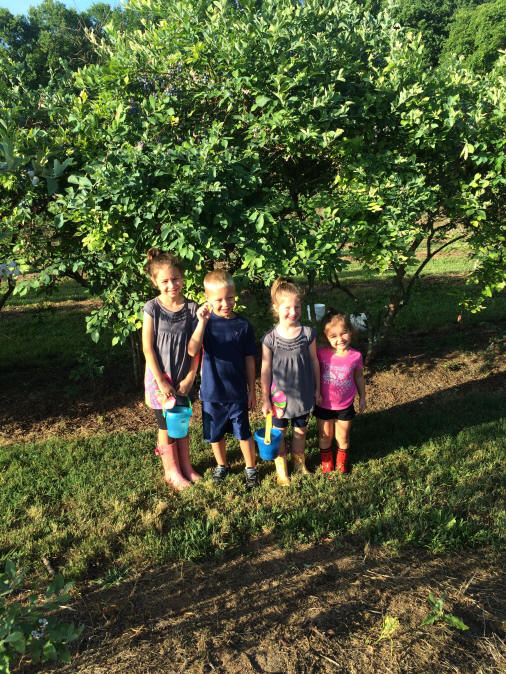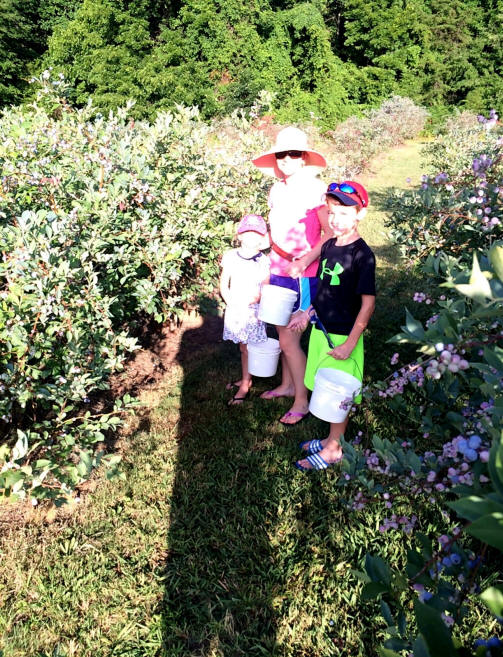 PHOTOS TAKEN JUNE 22 nd 2015
(picking and grinning)